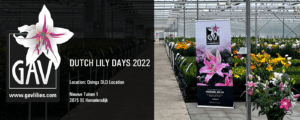 Dutch Lily Days 2022 | A glimpse into the future
Between the 7th and 10th of June, we invite you to visit us at the Dutch Lily Days 2022!
Here you'll find both our established varieties as well as the next generation of varieties that emerge from our in-house hybridising program. Based on three variety lines, each with a slightly different focus and with a high saleable bulb count per hectare.
Oriental Cut Flower Lilies
Focus: High bud count on smaller bulbs, with longer vase life & Pollen Free.
Oriental Pot Lilies
Focus: Large flowers, strong colours, longer flowering & Pollen Free.
Asiatic Pot Lilies
Focus: Medium size plants, appealing colours & Pollen Free.
Location: Onings DLD Location
Nieuwe Tuinen 1
2675 SE Honselersdijk
We hope to see you there!